Dispersal
After 36 years, 130 foals, nearly 30,000 AERC & EC miles, 86.5% completion rate, 35% Top Ten rate, 1 US National Champion 100 Mile horse, 2 horses selected to compete in World Championship, 2 Tevis completions and home for 10 years to one of the all-time leading sires of Arabians in Canada (Pyatigorsk), it is time for us to retire.

We will entertain offers on the horses in our herd. There will be no reserves, but we will not necessarily accept all offers. We would prefer the horses go to homes where they will be used for competition or breeding. Descriptions of our horses can be found at www.sturgeoncreekarabians.net under Sales, Stallions, Mares and Foals. For further information, please contact Carl Fudge, phone 204-268-3437 or email: sturgeoncreekarabians@gmail.com
We also welcome inquiries from people interested in horses on our Stallions page or our Mares page.
SCA In Motion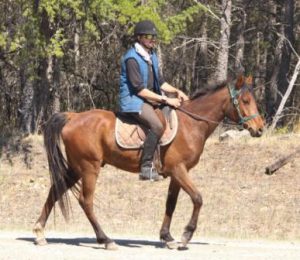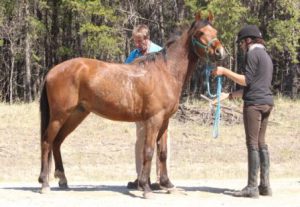 (IMAGINE THAT MA x Mirasol by *Ghazni GASB)
2014 Bay Gelding
SCA In Motion has seven crosses to PRIBOJ x TAKTIKA and three more crosses to PRIBOJ. He combines the elegance and race speed of his sire with the outstanding Polish race history of the Mlecha dam line in Mirasol.
SCA In Motion's sire, IMAGINE THAT MA, is a race-winning son of U.S. National Champion Racehorse MONARCH AH. IMAGINE THAT MA's pedigree is power-packed with racing ancestors. He raced two years and had 16 starts, winning three races, placing second once, and placing third in the Lone Star Arabian Futurity Stakes race.
SCA In Motion's dam, Mirasol, has five lines to PRIBOJ x TAKTIKA, three lines through Russian Triple Crown winner TOPOL and two lines to *Pietuszok PASB. She is very much TOPOL phenotype like her dam, My Grand Madame. Her dam line is the same as U.S. endurance champion, Reason To Believe.
SCA In Motion competed in his first 25-mile endurance ride on May 19, 2018 in Manitoba. He is a ¾ brother to SCA In The Mood.
SCA In Motion completed a 25-mile endurance ride at the 2019 Manitoba Equestrian Championships.

---
Vested Legacy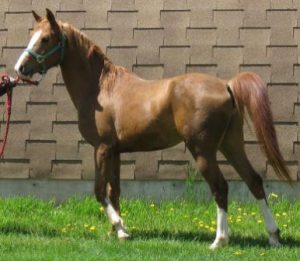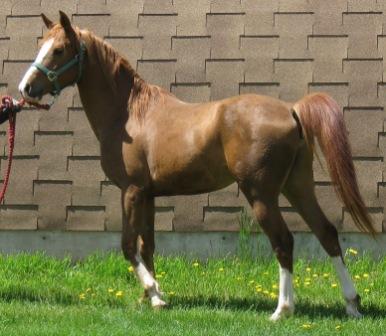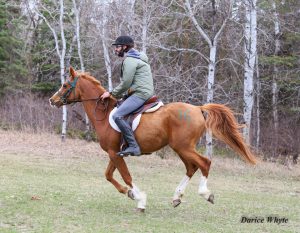 Vested Legacy, ridden by Jeff From, at the Birds Hill Fast Flat Forest ride, May 2019
Credit: Darice Whyte
(Vortexx x My Grand Madame by *Grandeur NSB)
2009 Chestnut Gelding
Height: 14.3 hh
SCA bred Vested Legacy, and kept him as a stallion until 2018. He sired our young stallion SCA Vision, out of Polaris by Philosophy; the mare SCA Dance With Verve, out of Dancing Queen by Philosophy; the gelding SCA Valour, out of Paper Trail by Pyatigorsk; and the filly SCA Malaya, out of Memorable Moment by Philosophy.
Vested Legacy is the first foal of his sire Vortexx. Vortexx is by the *SALON RASB son, PISTASCHIO and is out of *Vienna MBF. PISTASCHIO set a track record at Grants Pass in Oregon. *Vienna MBF is by *MENES RASB 2/11(6,0,3) and out of the mare *PUSTINIA RASB . *PUSTINIA RASB raced 2/14(3,1,1) and held the All-Union Speed record for 2 year olds at a distance of 1000 meters.
Vested Legacy's dam was My Grand Madame, whose sire *Grandeur NSB was a TOPOL grandson. My Grand Madame was out of My Madame, who was out of Harpona. Both of Harpona's parents were sired by *Pietuszok PASB. Thus, Vested Legacy is 21.88% PRIBOJ x TAKTIKA, 5x4x4x5x5.
On his sire's side, Vested Legacy is bred similarly to Nobby, winner of the 2008 and 2010 World Endurance Championships. Nobby's paternal grand-sire was *MENES RASB and Nobby's dam, Pudra, was out of *PUSTINIA RASB. Vested Legacy's paternal grand-dam, *Vienna MBF, was by *MENES RASB and out of *PUSTINIA RASB.
Vested Legacy completed three 25-mile endurance rides in 2019 in Manitoba.
---
Imagine That Sound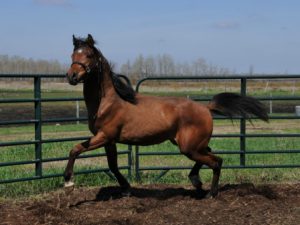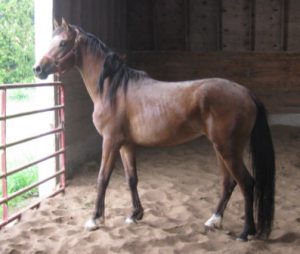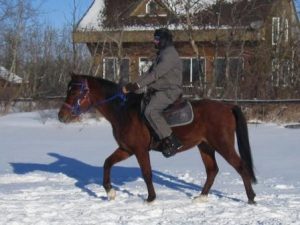 (IMAGINE THAT MA x Sound Of Silence by Pyatigorsk)
2012 Bay Gelding

Imagine That Sound is bred to be a race horse. His sire is IMAGINE THAT MA, race-winning son of US Champion Racehorse MONARCH AH. IMAGINE THAT MA's pedigree complements that of Imagine That Sound's dam, Sound of Silence. She was a full sister to Kaluwa, the dam of our lead stallion, Philosophy. Philosophy was sired by PISTASCHIO, track record setter at Grants Pass Downs in Oregon. There are multiple lines to PRIBOJ x TAKTIKA: three lines to CZORT (winner of 13 races in 19 starts including 8 Stakes races) and two infusions of the fabulous Polish race and brood matron, *SABELLINA PASB (winner of 5 of 7 races including the Derby and Oaks Stakes). These mares were from the most successful race family in Poland since World War II. Imagine That Sound is well started under saddle.
---
*Sold!* SCA Valour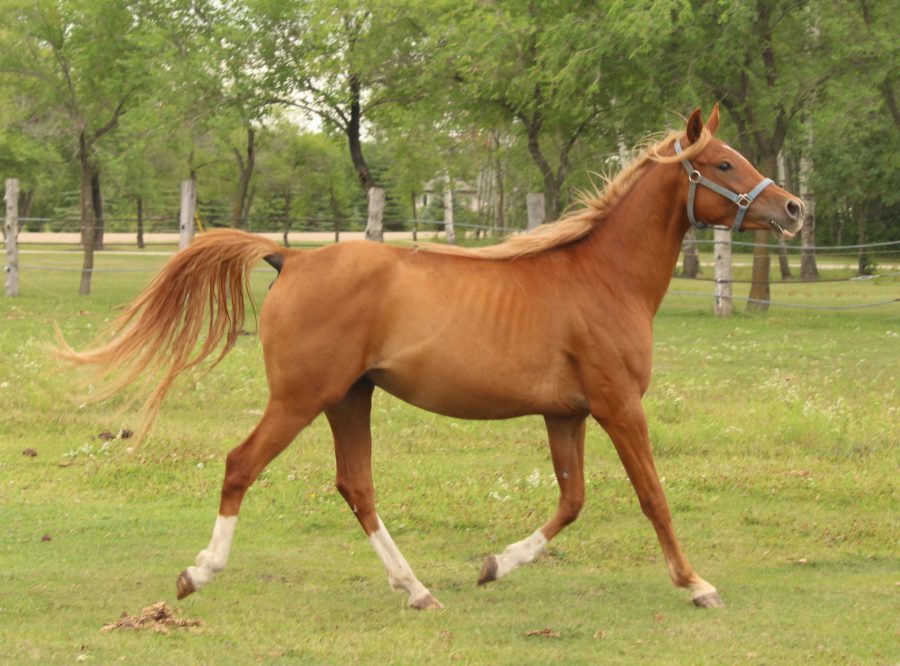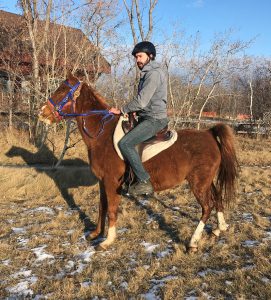 Vested Legacy x Paper Trail by Pyatigorsk)
2015 Chestnut Gelding
This gelding has seven lines to PRIBOJ x TAKTIKA and nine lines to PRIBOJ including three lines to the PRIBOJ son POMERANETS. His dam, Paper Trail, has three lines to Mammona, the "Queen of Tersk", two lines to PRIBOJ and TAKTIKA through *Pietuszok RASB, two lines to the PRIBOJ son, POMERANETS, and one line to PRIBOJ's sire, PIOLUN.
SCA Valour is well started under saddle.