Posted July 2020
Congratulations to Rose Arnel of Oakbank, Manitoba on her purchase of SCA Ariel (Perseverence x Apperitif by PISTASCHIO), 2016 Grey Mare, and Dancing Queen (Philosophy x Danseuse Du Nord by *SEKSTANS PASB), 2005 Bay Mare.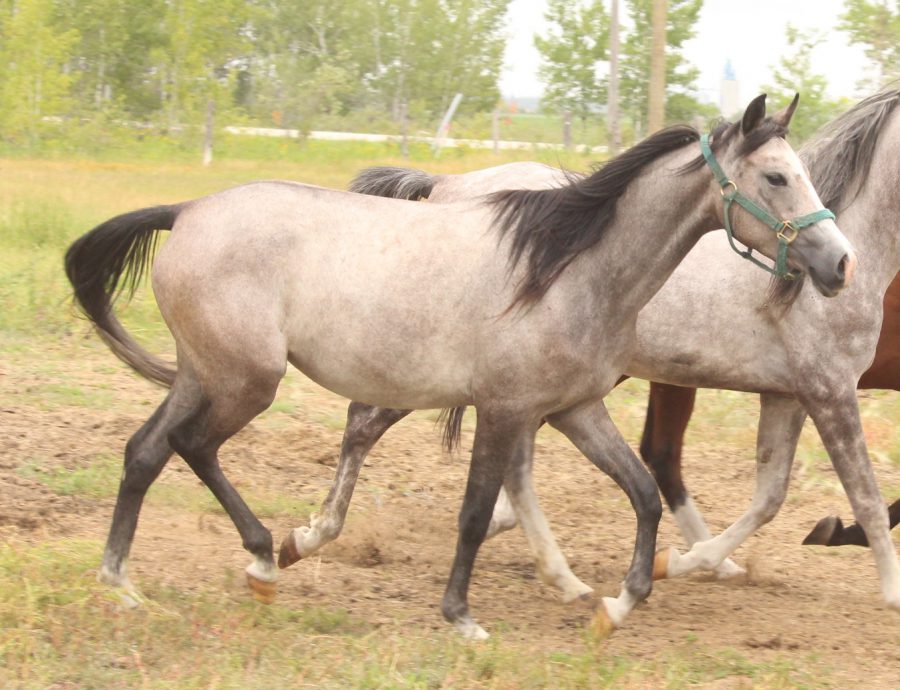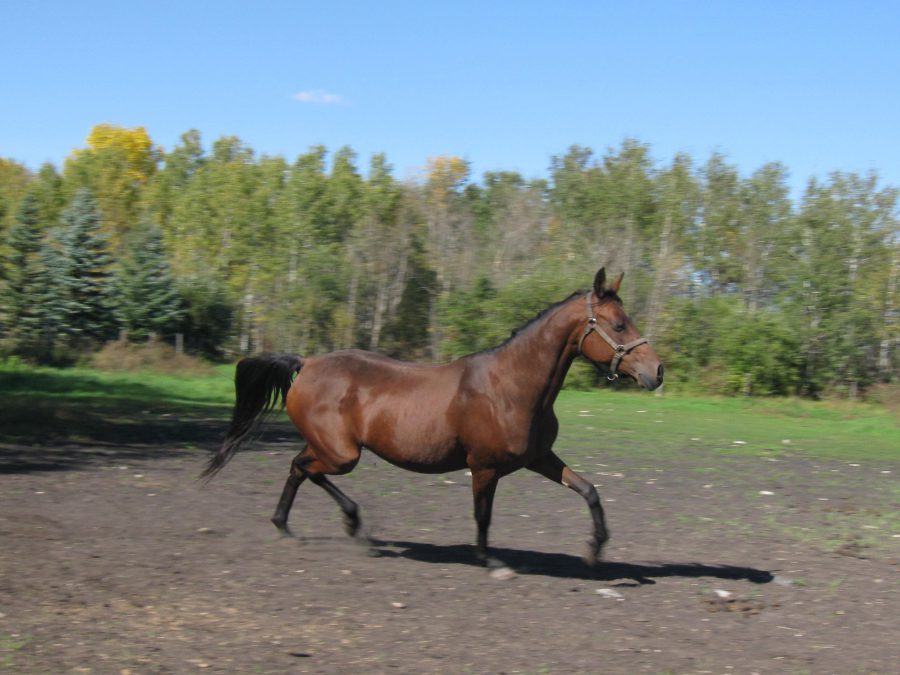 SCA Ariel has five crosses to PRIBOJ X TAKTIKA: two crosses from her sire, Perseverence (through Pyatigorsk), and three crosses from her dam Apperitif through PLATINA, TOPOL and PTASHKA. Ariel's sire, Perseverence, has Pyatigorsk's black bay colour. Ariel's dam, Apperitif, was very athletic, as one would expect from her pedigree.
Dancing Queen. This *Dolly NSB grand-daughter is essentially line-bred to *SABELLINA PASB, as her pedigree contains both *SABELLINA PASB and her full sister *SAKWA PASB. She has four lines to PRIBOJ x TAKTIKA, three lines to ARAX, and two to *SALON RASB. Dancing Queen is the dam of Dance Proudly, dam of our 2020 filly, SCA Destiny (pending), seen on our Foals page.
We wish Rose all the best with Ariel and Dinah.
---
Posted May 2020
Congratulations to Brenda Casement of Living Sky Equines in Leslie, Saskatchewan on her purchase of SCA Phylum (Philosophy x My Grand Madame by *Grandeur NSB), 2016 Grey Stallion.

This stallion is the only grey colt that his sire, Philosophy, produced out of a non-grey mare, which means he carries the grey gene of his great grandsire *SALON RASB. SCA Phylum has seven crosses to PRIBOJ x TAKTIKA. Phylum's sire's full sister, Spirited Music, completed the Tevis Cup, and has earned over 3000 AERC miles, an AERC Decade Team Award and a 10-year AERC Equine Longevity Award.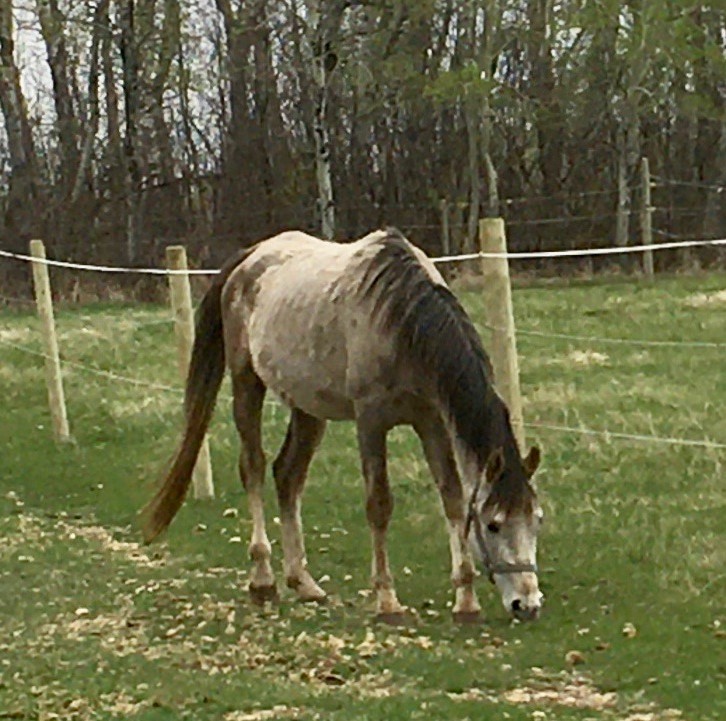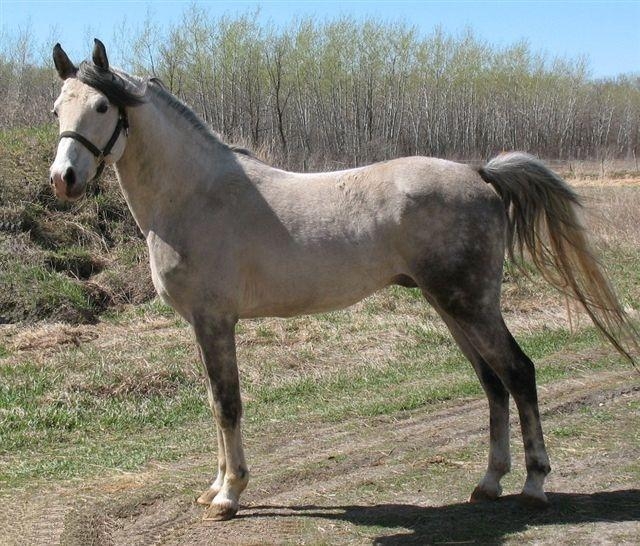 We are excited for Brenda on her acquisition of this young stallion. We look forward to watching Phylum contribute to her breeding program.
Comments from Brenda Casement, May 2020, about Phylum: "He's a real sweetheart."
---
SCA In The Mood has a new home!
Posted on July 12, 2019
SCA In The Mood (IMAGINE THAT MA x My Grand Madame x *Grandeur) has a new owner, Linda du Toit of Dauphin, Manitoba. And he has a new barn name, "Venos". Linda is originally from South Africa where she grew up with horses.
Previously, Jeff From and Chris Paulus rode SCA In The Mood and completed seven 40-km endurance rides in Manitoba in 2018 and 2019.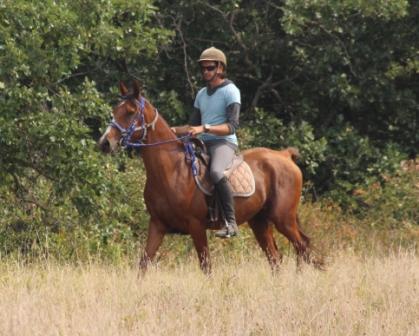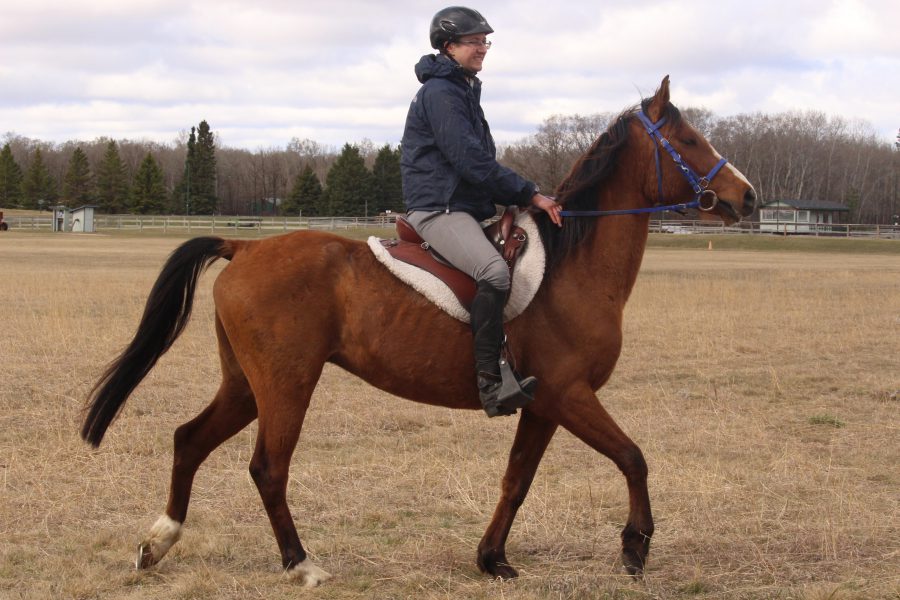 SCA In The Mood was bred in New Mexico. He is bred to run and has had full siblings, ¾ siblings and half siblings compete in endurance. His sire, IMAGINE THAT MA, was a race winning son of US National Champion Racehorse MONARCH AH. His dam, My Grand Madame, was bred by SCA and comes from the dam family that has been the most successful race family in Poland since World War II. We sent her to New Mexico for breeding. There, she was bred to various stallions including the German-born Russian stallion *Ghazni GASB, the Russian-bred stallion Vortexx, and the Polish-bred stallion IMAGINE THAT MA.
My Grand Madame produced three offspring by *Ghazni, two of which were owned by SCA. The other offspring, PV Ghazna, has completed 3 rides with 1 BC to her credit. The *Ghazni daughter SCA owns, Mirasol, produced a daughter by IMAGINE THAT MA that we named SCA Mirror Image (aka "Sparkle"). "Sparkle" competed in endurance in Manitoba and is now owned by Cheryl Langbein of California. Cheryl's previous SCA-bred horse, Reason To Believe, was US National Champion 100 Mile horse.
A full sister to SCA In The Mood, SCA My Imagination by IMAGINE THAT MA, competed in endurance and is now in our broodmare band. Vested Legacy, out of My Grand Madame and by Vortexx, was used briefly by SCA as a stallion and is presently competing in endurance with Jeff From.
We wish Linda and Venos all the best with his new family and look forward to seeing them on the trails!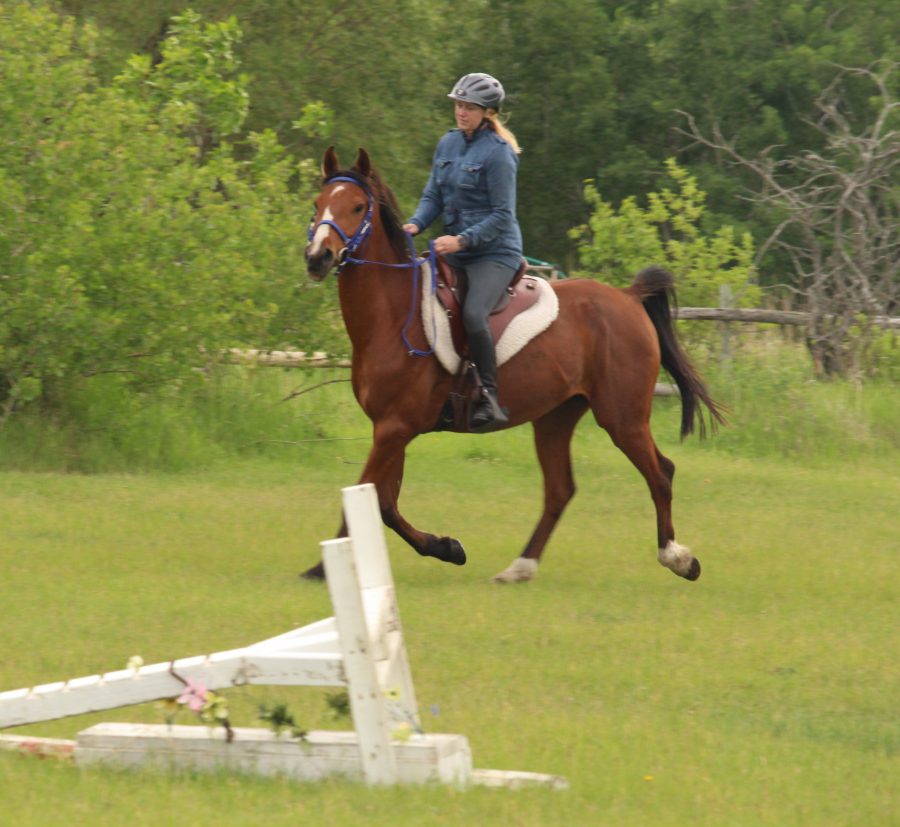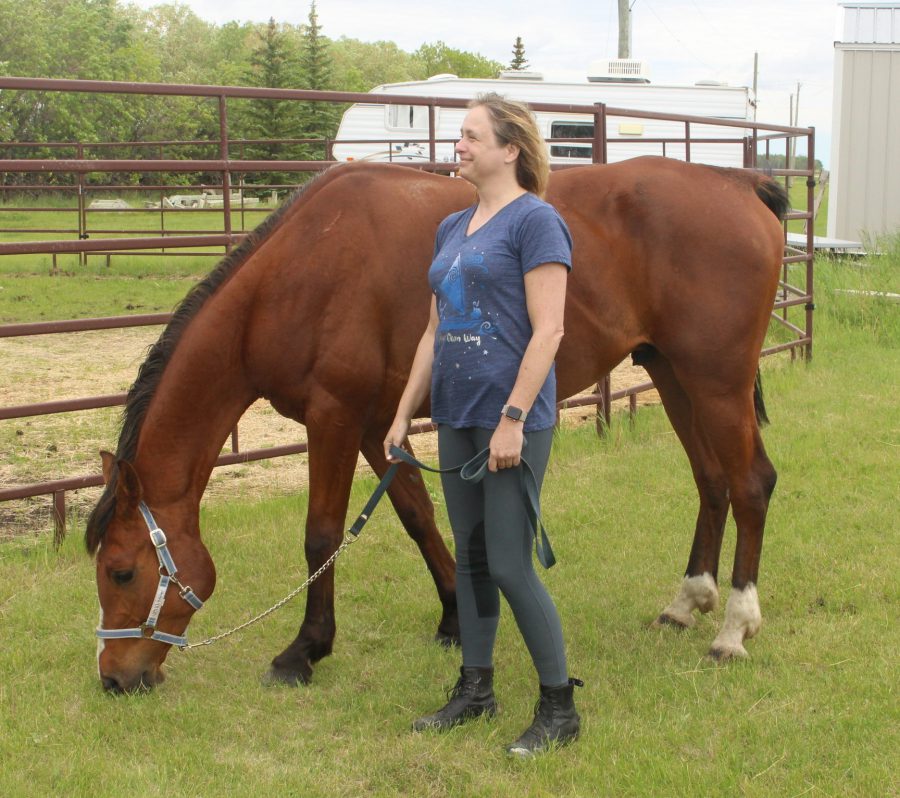 Comments from Linda du Toit, July 2019 about Venos: "He's a total sweetheart- first at the gate and follows us everywhere. Awesome personality and very brave with all the new sights, dogs, people etc. Absolutely no bad behavior at all."
---
SCA Mirror Image Has Moved to California!
Posted on April 27, 2019
Congratulations to Cheryl Langbein, DVM of Santa Rosa, California on her purchase of the mare SCA Mirror Image (IMAGINE THAT MA x Mirasol x *Ghazni GASB)! SCA Mirror Image (aka "Sparkle"), born May 13, 2012, was sired by IMAGINE THAT MA, a race-winning son of MONARCH AH.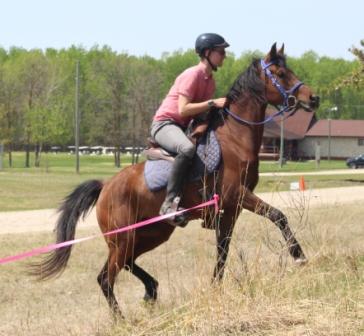 Sparkle was trained by Jeff From and ridden by Chris Paulus in Manitoba. Sparkle completed one 25-mile endurance ride in 2017 and seven 25-mile rides in 2018, including back-to-back rides at the Ride on Mars on May 19 & 20 (Best Conditioned on May 20th); Beautiful Belair on July 21; back-to-back rides at Spruce Woods where she got the High Vet Score on day 2; and the Manitoba Equestrian Championship on September 22, 2018 where she was elevated and completed an extra loop (35 miles in total).
Cheryl came to Manitoba in mid-January, during very cold temperatures, to ride three of our sale horses. It is a testament to Cheryl's commitment to her endurance career that she was willing to brave our winter weather to choose Sparkle!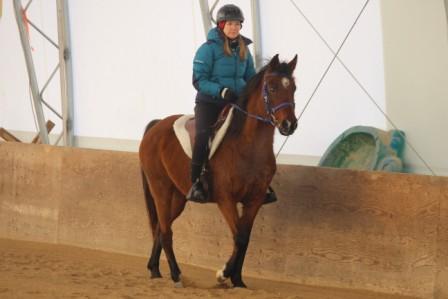 Cheryl has been a champion endurance rider in California for more than 20 years. Previously, Cheryl purchased three geldings from SCA, including Seek The Moment (aka "Mack") in 1999 and Reason To Believe (aka "Reason") in 2005. Cheryl and Mack were IAHA 50-mile Regional Champions. Cheryl and Reason were on Team USA at the 2008 World Endurance Championship in Malaysia; Reason was AHA Champion 100-mile horse and AERC Reserve Champion 100-mile horse. Cheryl's father, Jerry Gillespie, DVM, has been an endurance rider in California for more than 50 years. He also has purchased SCA endurance horses, including his current gelding, Photon.
We wish Cheryl and Sparkle a great partnership in future endurance rides!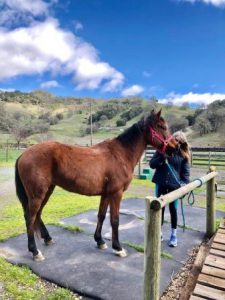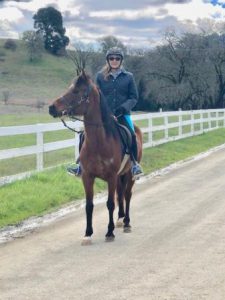 Comments from Cheryl Langbein March 8, 2019 after her first 15-mile ride on Sparkle. How is she so sweet and amazing!? After cuddling and brushing we went for a 15-mile ride around the general area. She crossed a creek with no problem, wasn't bothered by a big truck and machinery working out in a field near the road, a big SUV passed by her with no problem. No shying at all! Love petting and snuggling. Doesn't flip her head up and down, stands totally still for saddling and bridling. I'm in love!!
---
Four SCA-bred horses win the new AERC Equine Longevity Award
Posted on April 25, 2017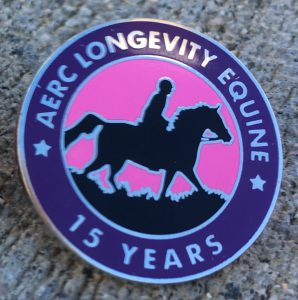 A new AERC award, the Equine Longevity Award, honors equines with at least 50 miles of completions a year for 10, 15, 20, and 25 years. This can be done with LD miles or endurance miles with any number of riders. The new Award took effect on November 30, 2016. All horses that met the criteria up to that date were recognized. The owners received Equine Longevity Award pins and a letter of congratulations from AERC.
BE MY LOVE, owned by Susan Friedman in California, received both the 10-year and 15-year Awards!
SPIRITED MUSIC (owned by Brooke Schick in California), SCA DARTAGNAN (owned by Myna Cryderman in Manitoba), and SAVOUR THE MOMENT (owned by Lois Wifall in California) received the 10-year Award.
Both BE MY LOVE and SPIRITED MUSIC also are AERC 3000-mile Equines, and they continued to complete rides in 2016. They, and their respective owners, also are AERC Decade Team members, having competed together in AERC rides for at least 10 years in at least one 50-mile ride a year.
We are excited that these four horses are getting such prestigious recognition from AERC! Terry Wooley Howe, AERC Competitions Committee Chair who created the Longevity Awards, indicated to Susan Friedman that Terry "sent out 685 pins to current members. Of those, 62 were 15 year pins."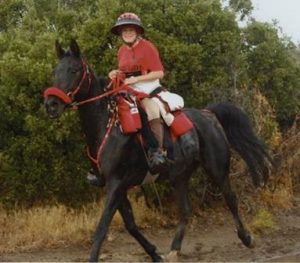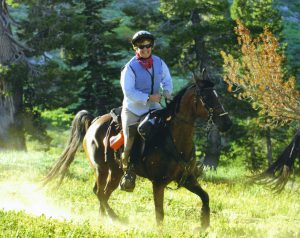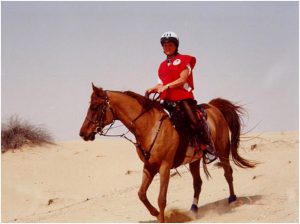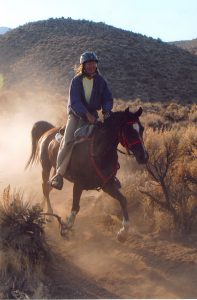 Comments on Facebook:
Carl Fudge:
As the breeder of these great horses that have received this award, I am thrilled in the knowledge that all four of these horses were sired by different stallions and all four were out of different mares. The only commonality was our breeding program and that is very gratifying. My partners and I would like to thank the owners and riders of these horses for without their dedication and efforts the horses would not have accomplished what they did. Thank you!
Susan Friedman:
You are soooooo welcome and thank you for breeding my Dream Horse… I am in excellent company.
Brooke Schick:
Spirit is still going strong and doing 50's. Her first 50 for this season will hopefully be Los Padres in April.
Myna Cryderman:
I had no idea Dart and I received this award. Nice surprise… Very good idea to award longevity in this sport.
You can find more details about these four horses on our Endurance page.